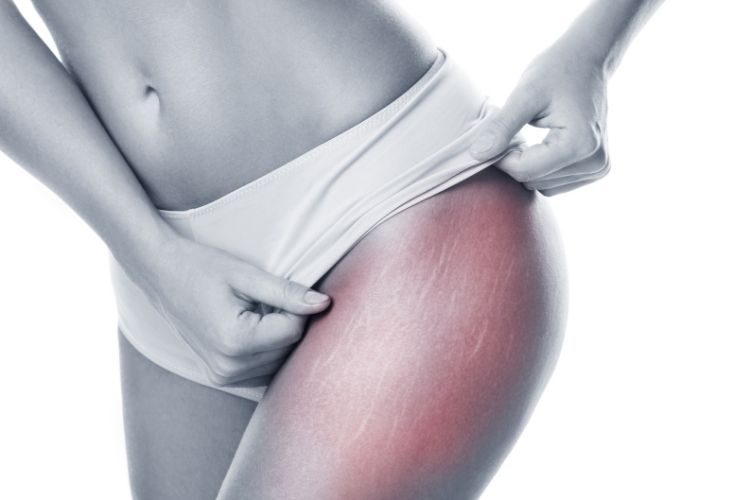 Tired of those "tiger stripes" making you feel less than fierce? Unfortunately, striae on your skin can impact your self confidence. If this sounds like you, then it's time to see a stretch mark specialist in Falls Church, VA, to eliminate or reduce the appearance of those lines that so easily seem to ruin self-esteem.
With non-surgical treatments, your confidence is boosted almost instantly without any downtime or general anesthesia required!
Find out what stretch marks are and when it's the best time to visit our stretch mark specialist in Falls Church, VA.
What Are Stretch Marks and What Causes Them?
Stretch marks, or striae, are most commonly found on the breasts, hips, abs, and buttocks and are actually a type of scar that occurs from your skin stretching or shrinking too quickly. Collagen and elastin, proteins found in the dermis, help keep skin strong and flexible. But when shrinkage or growth occur too quickly from sudden weight loss or gain, they're ruptured and cause scarring.
Stretch marks commonly occur from:
Growth spurts during puberty

Hormone fluctuations

Pregnancy

Sudden muscle growth from weight training
When Should I See a Stretch Mark Specialist in Falls Church, VA?
There is typically nothing physically harmful about stretch marks. Emotionally, however, is a different story. You should see a stretch mark specialist in Falls Church, VA, to help you get rid of these lines when they affect your self-confidence. Also, if you are pregnant, you can see a specialist to help prevent stretch marks from worsening.
How Does a Stretch Mark Specialist Help?
They can offer cosmetic stretch mark treatments to help fade your lines, such as such as Morpheus8 and laser therapies. They'll evaluate the condition your skin is in and then determine the best method to use for you.
Where Can I Find the Top Specialist Near Falls Church?
For the top stretch mark specialist in Falls Church, VA, contact our experts at Ultra Body Sculpt who can help you look your absolute best. Call us today at 703-988-2000, and be sure to ask about our membership options to help you save on cosmetic treatments that help you achieve your ideal image!
Related Posts