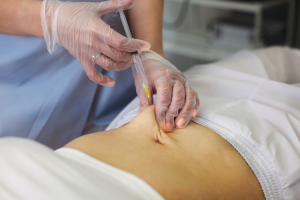 Ozempic in Arlington, VA, is an FDA-approved weight loss medication for long-term weight management in adults who struggle with shedding unwanted pounds. Also known as semaglutide, it works by decreasing your appetite to promote steady, sustainable weight loss and should be combined with a healthy diet and exercise regimen.
Why Choose Ozempic in Arlington?
If you're struggling to lose weight naturally or your weight loss has plateaued, then once-weekly semaglutide may be right for you.
Combined with lifestyle changes as well as a custom diet and exercise routine, this popular drug can result in 10% to 15% improved weight loss, helping you to achieve your ideal body and health faster.
What Do Semaglutide Weight Loss Injections Feel Like?
Ozempic, aka Semaglutide, is administered via a single-use injection pen. Your provider will go over how to give this injection to yourself. You shouldn't feel more than a quick pinch. Doses are adjusted monthly to suit your progress.
When Will I See My Weight Loss Results?
Even with help, weight loss still takes time, however semaglutide is proven to help you lose weight steadily and keep it off. You should notice progress relatively soon, but a full treatment plan can take 16 months.
Am I a Good Candidate for Semaglutide Treatments?
Semaglutide injections are best suited for patients struggling with obesity, or are overweight at least one weight-related condition, such as type 2 diabetes or high blood pressure.
Semaglutide can interact negatively with certain medical conditions or medications, so you need a comprehensive consultation with a trusted provider.
Where is the Best Place to Get Ozempic in Arlington for Weight Loss?
Ultra Body Sculpt is here to help you restore your health and renew your confidence with Ozempic injections. When you contact us at 703-988-2000 to book your consultation, ask about our comprehensive full-body analysis to better understand your body and weight loss needs!