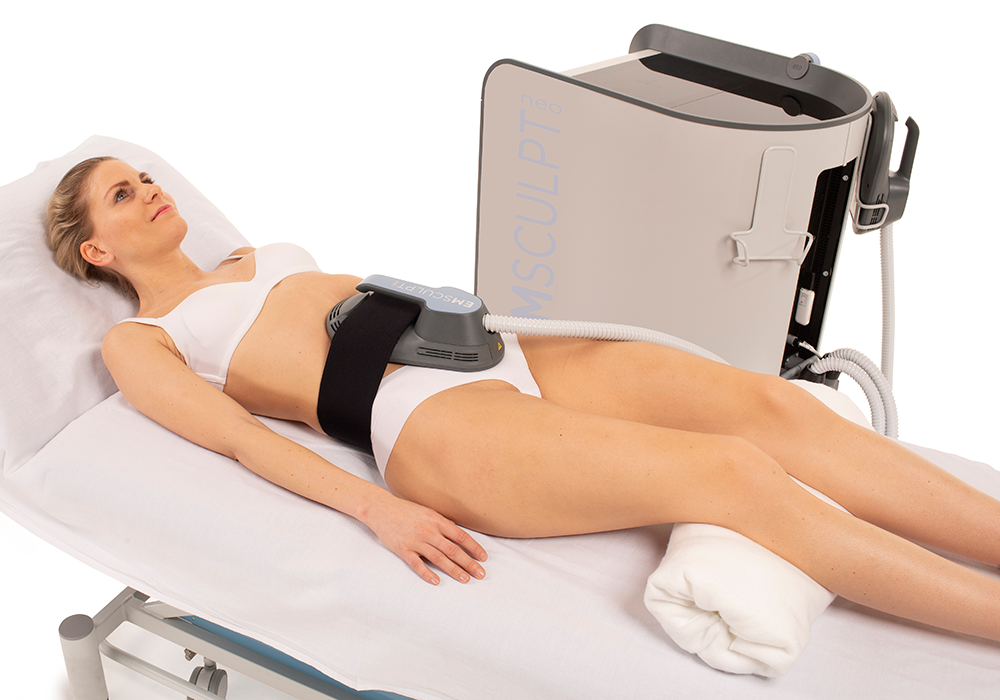 By now, we're sure you've heard of Emsculpt and it's ability to both burn fat and build muscle simultaneously. However, there's a new kid on the block, one that uses RF technology to change the game completely: Introducing Emsculpt NEO.
At Ultra Body Sculpt, we are thrilled to be one of the first providers in the entire country to offer this new treatment to our patient population.
What is Emsculpt NEO in Arlington?
Emsculpt NEO in Arlington is a device that uses high intensity focused electromagnetic fields (HIFEM) along with radiofrequency heating to sculpt your body effectively.
These technologies work in tandem to eliminate unwanted fat while also tightening and growing your muscles.
How Are Muscles Targeted?
Powerful contractions are stimulated during treatments with Emsculpt NEO to stimulate the muscles to engage and build upon themselves.
This also strengthens the muscle fibers for optimal muscle growth.
How is Fat Eliminated?
The technologies behind these treatments breaks down fat cells as an added bonus to muscle building and strengthening.
Is Emsculpt NEO in Arlington Safe?
Yes, the FDA has recently cleared EmSculpt NEO as safe when administered by a board-certified and qualified practitioner.
Is Emsculpt NEO Effective?
Emsculpt NEO has been proven to be an extremely effective treatment to build muscle and eliminate body fat.
This has been established through extensive testing including seven clinical studies to include MRI, ultrasound, and histology evaluations.
In fact, the following statistics have been found to be true as a result of treatment sessions:
30% reduction in body fat in the treatment area

19% reduction in abdominal separation

25% increase in muscle mass

Faster results than competing treatments
Moreover, this revolutionary technology has even been found to provide significant results for patients with higher BMIs.
Don't believe us? See for yourself! Emsculpt NEO client testimonial below:
How Many Treatments Are Needed?
For best results, most physicians recommend around three or four treatments in total.
However, the best way to know how many treatments are best for you is to schedule a consultation with a doctor who has extensive experience working with this advanced technology.
How Does Emsculpt NEO Compare to Diet and Exercise?
In just three or four treatments with Emsculpt NEO patients can achieve results achieved after six months to one year of strict diet and exercise regimens.
Do You Need Maintenance Treatments?
While not necessary, many patients opt to return every three months for maintenance treatments to maintain their results.
Popular Treatment Areas
The FDA has cleared Emsculpt NEO as safe and effective when used in the following treatment areas:
Abdomen

Buttocks

Thighs

Arms

Calves

Lipolysis of the abdomen
It has also been approved to treat many medical or cosmetic concerns including the following:
Fat burning

Weak arms, calves, thighs

To shape and lift the buttocks
How Long is a Treatment Session?
Most treatments last for only half an hour making it a quick treatment to schedule during a lunch break.
When compared to competing treatments, Emsculpt NEO has established itself as able to reach fat burning temperatures in less than four minutes.
This makes it the fastest technology available on the market today.
Does it Hurt?
Treatments are a comfortable and pain-free experience for the patient.
Is Downtime Required?
There is no downtime required.
In fact, you should be able to return to your daily activities immediately following your treatment session.
Where to Go for Body Sculpting Treatments
Are you frustrated by areas of unwanted body fat that seem to stick around no matter what diet or exercise program you follow?
At Ultra Body Sculpt we are proud to offer the revolutionary treatments designed to give you the body you want, fast!
That is why we are thrilled to offer Emsculpt NEO as performed by our team of experienced and competent body sculpting professionals.
To schedule an in-person consultation for Emsculpt NEO in Arlington, VA, contact our office online or give us a call at (703) 988-2000 today!