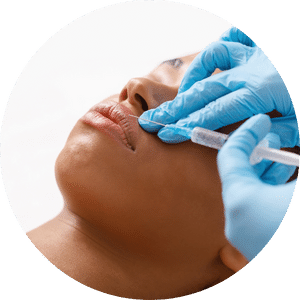 You're undeniably familiar with lip fillers and the wonderful results they can achieve by now, but have you heard of the unsung hero that goes by the name of a Botox lip flip in Arlington, VA? This innovative lip augmentation technique relies on Botox to produce subtle results that still wow the crowd (and you, of course).
Similarly to any Botox treatment, the injected botulinum toxin relaxes the muscles around your mouth, causing your upper lip to appear as though it has flipped upward. The lip flip is unique because it doesn't actually add volume to your lips even though it gives the appearance that it has. Instead, it simply shows more of what you already have.
Why Choose a Botox Lip Flip for Non-Surgical, Natural Looking Lip Enhancement?
If you're interested in having fuller, healthier looking lips but find that lip fillers aren't compatible for your goals, then a Botox lip flip in Arlington, VA, is the ideal procedure for you. For many people, dermal fillers are too intense or they may even be allergic to the ingredients, making it an inappropriate choice.
A lip flip is a more subtle yet effective form of non-surgical lip augmentation that uses botulinum toxin, a neurotoxic protein that is most commonly used to treat fine lines and wrinkles, to make your lips appear plump and juicy.
It can also be used to minimize lines around the mouth, as well as reduce the appearance of a gummy smile.
Can a Lip Flip Be Used on All Skin Types / Skin Tones?
Botox is safe to inject for all skin types and tones. If you have concerns relating to this, talk with your injector and ensure that they have experience with treating patients similar to you.
What Do Botox Lip Injections Feel Like?
A lip flip is not very invasive or uncomfortable. In many cases, your provider will apply a numbing cream or cold compress to your lips, making the overall experience more comfortable. This isn't required though, especially if you have a high pain tolerance.
You might feel a brief pinch or sting when the needle enters, followed by a feeling of pressure. It's normal for your eyes to water, even if you feel no discomfort at all.
When Will I See My Results?
Botox doesn't work instantly, however it does take effect pretty quickly. You should see minor improvement within a few days and the full results within two weeks.
How Long Do Results Last?
Results aren't permanent, but this can be a good thing if you're experimenting with a new look and simply want to see how fuller lips will look on yourself. It is also beneficial if you need to make adjustments, allowing you to go into your appointment and adjust the dosage for a slightly different result.
A Botox lip flip in Arlington, VA, will last two to three months on average. It is possible to have it last for up to four months, especially if you are committed to maintaining your results with follow-up appointments.
How Many Times Can You Get This Procedure Done?
Only one session is likely necessary to achieve your desired results. You may be able to add more later to achieve a more dramatic effect, but this usually isn't necessary. However, after the effects wear off in two or three months, you will need to repeat treatment, and it's safe to do so as often as you like.
How Long Does Treatment Take?
The actual procedure itself is completed in 10 to 20 minutes. The longest parts are waiting for your numbing cream to take effect and the 15 minutes after injections that you're asked to wait so that your provider can monitor you and make sure that you don't have any immediate reactions to the Botox injections.
Ultimately, you'll be in and out of your appointment within an hour or less. This makes it the perfect lunchtime treatment!
How Long is the Recovery After a Botox Lip Flip in Arlington, VA?
Great news! There is no lengthy downtime or healing period after a lip flip.
You should refrain from wearing lip products and putting pressure on your lips, such as when you drink from a straw or smoke a cigarette. Be careful when eating or drinking for at least three days, and avoid drinking alcohol for a minimum of 24 hours.
What Are the Side Effects of a Lip Flip?
Side effects are mild and temporary, occurring most often at the injection site itself due to natural irritation. These side effects can include swelling, bruising, and tenderness, which are much more mild when compared to surgical alternatives.
Additionally, if you choose a good injector for your Botox services, your chances for severe or long-term side effects or complications lower significantly.
Am I a Good Candidate for a Botox Lip Flip?
Any healthy adult with realistic expectations is likely a good candidate for a lip flip. If you have an active oral infection like cold sores, then this procedure is not recommended for you until it has resolved.
Where is the Best Place to Get a Botox Lip Flip in Arlington?
Ultra Body Sculpt is the place to be, and we invite you to enjoy our many Botox services to help you look and feel your very best!
Take the next step and contact us today at 703-988-2000 to request your complimentary consultation! Give yourself a reason to smile with this amazing cosmetic Botox technique.