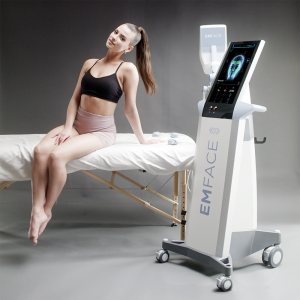 Emface in Arlington, VA, is an advanced non-surgical treatment designed to address facial aging concerns and promote skin tightening. Utilizing cutting-edge technologies like radiofrequency (RF) and high intensity facial electromagnetic stimulation (HIFES) energies, this revolutionary treatment stimulates collagen production, enhances facial contours, and improves skin elasticity while toning facial muscles as well.
Below, our specialists divulge everything you need to know about Emface before coming in for treatment at Ultra Body Sculpt.
Why Should I Choose Emface for Skin Rejuvenation?
Choosing Emface for skin rejuvenation offers many advantages. Advanced technologies target multiple layers of the skin for ultimate rejuvenation. Non-surgical and minimally invasive, with little to no downtime, this procedure allows you to safely and effectively address various signs of aging, including sagging skin, wrinkles, and loss of facial volume.
With its customizable approach, this is a treatment that can be tailored to your specific needs, providing effective and natural looking results for a more youthful and refreshed appearance.
Clinical studies have shown amazing results for this remarkable treatment that has been dubbed "needle-less filler!" A HIFES and RF combination like that found in Emface helped patients achieve a 37% reduction in wrinkles, 30% increase in muscle tone, and a 23% lifting effect.
What Can I Expect During My Treatment?
During an Emface treatment, you can expect a somewhat comfortable, and non-invasive experience. We won't sugarcoat it for you. It's not pain free. However, the treatment is always needle free and well-tolerated amongst the clients we've see so far. You will also likely feel warmth during the procedure.
How Many Treatments Will I Need for Amazing Results?
The number of Emface treatments needed can vary depending on individual factors such as your skin condition and your desired outcome. Typically, a series of several treatments spaced a few weeks apart is recommended to achieve optimal results.
Your provider will assess your needs and provide a personalized treatment plan, including the estimated number of sessions. It's important to follow their guidance and attend all recommended appointments for the best outcome.
When Will I See Improvement After Emface in Arlington? How Long Do Results Last?
Results from Emface treatments can vary, but some improvement can often be noticed soon after the initial session. However, the full benefits may take some time to become apparent as collagen production increases and the skin continues to tighten and rejuvenate.
Gradual improvement can be seen over the course of the following months. Patience is important, and consistent follow-up sessions can further enhance and maintain the results.
Results from Emface in Arlington can last for several months to a year or longer. To maintain the desired outcome, periodic maintenance treatments may be recommended. Following a healthy skincare routine and lifestyle practices can also help prolong the results.
Speaking of Results … Let's See Some Before-and-After Results of Emface
The following before-and-after photos depict Emface results from patients around the country.
How Can I Find Out if Emface in Arlington, VA, is Right for Me?
It is recommended you schedule a consultation with a qualified Emface provider. During this meeting, they will assess your specific concerns, examine your skin condition, and discuss your goals. Based on their evaluation, they can provide personalized recommendations and determine if this is the right treatment option for your unique needs and expectations.
How Much is Emface?
A full series is likely to cost $4,500 to $6,000, though you need a consultation to get a more accurate quote. The price is dependent on factors such as how many sessions you need and the skill and experience of your Emface provider.
Where is the Best Place to Go for Emface in Arlington?
If you are searching for a top-notch provider who believes in personalized care and customizable outcomes, choose Ultra Body Sculpt. Here, it's our mission to ensure you receive exactly that.
Our team of experts takes into consideration your particular concerns and incorporates them into a treatment plan designed to meet your skin goals. Contact us at 703-988-2000 to book your consultation today!