A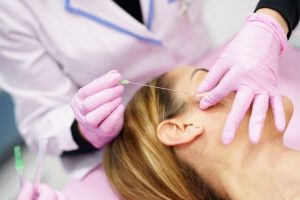 thread lift in Arlington, VA, also referred to as a lunchtime facelift, is a minimally invasive alternative to a surgical facelift. This technique uses absorbable, barbed sutures to "lift" the face, stimulating the production of collagen and offering a mechanical lift where the sutures are placed, all with no downtime or long recovery period.
Why Choose Thread Lift in Arlington, VA?
If you wish to avoid surgery but want the effects of a facelift, then a thread lift is ideal for you. This innovative technique lessens the appearance of sagging, loosened skin, be it around the forehead, jowls, brow line, cheeks, or under-eye area.
It can also be used to lift and tighten breasts, especially after weight loss or pregnancy.
What Does This Procedure Feel Like?
This procedure can seem daunting at first, but you can rest easy knowing that your specialist will apply a topical anesthetic to numb the skin before treatment. This should be a pain-free and tolerable treatment.
When Will I See My Results?
More often than not, you'll see some results right away, such as skin lifting and contouring. You'll get to enjoy the full results of your thread lift after one to two months of your treatment. How long it takes exactly depends on your age and collagen production, among other factors.
Am I a Good Candidate for Thread Lift in Arlington, VA?
For both men and women wishing to combat the signs of aging and reduce the appearance of sagging or wrinkled skin, a thread lift is a wonderful option. It provides the amazingness of a facelift without surgery, all while maintaining a look of natural results. A consultation with a specialist is the best way to determine if you're a suitable candidate.
Make an Appointment at Northern Virginia's Top Medical Spa Today!
Ultra Body Sculpt specializes in surgery-free cosmetic enhancements, guaranteeing beautiful, satisfying results. Whether you're coming in for a thread lift, body sculpting with Emsculpt Neo, or any of our other game-changing treatments, our non-surgical methods offer little to no risk or downtime, so what are you waiting for?
To book your consultation, call us at 703-988-2000 now! Once you meet our amazing staff, you'll just know you're in excellent hands and be ready to become another one of our happy patients.