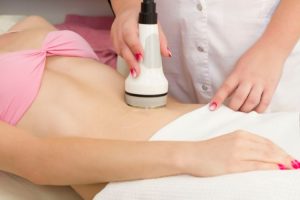 There are ample procedures available for non-surgical fat reduction, such as cryolipolysis and radiofrequency lipolysis. These procedures seek to create long-lasting results for patients struggling with stubborn fat and who are seeking non-surgical fat reduction alternatives to liposuction.
Why Choose Non-Surgical Fat Reduction Treatments?
If you're struggling with stubborn or excessive pockets of fat, even with diet and exercise, a non-surgical fat reduction procedure may be for you. This can include procedures such as CryoSkin, Emsculpt, or Morpheus8.
With these safe and non-surgical alternatives, you can reclaim your body and create a slimmer figure without stress, extreme risks, or long recovery times.
What Does Fat Reduction Feel Like?
This depends on the fat reduction treatment you decide on, but virtually all non-surgical fat reduction procedures are quite comfortable. Even Morpheus8, which includes microneedling alongside radiofrequency, is pain free due to the use of topical anesthesia.
When Will I See My Results?
Most procedures work by targeting your fat cells and destroying them in some way or another, either with heat or cold. These fat cells are then disposed of by your body over a period of time. Most patients see noticeable results in two to three months with continuous improvement.
Am I a Good Candidate for Non-Surgical Fat Reduction Treatments?
A consultation with a skilled and experienced provider is the only way to determine if non-surgical fat reduction is right for you and which procedure suits your needs best. Due to the minimally invasive methods of these procedures, fat reduction is safer than traditional liposuction.
Where is the Best Place to Get Treatment in Arlington, VA?
Whether you're seeking Morpheus8, Emsculpt, or any other reduction procedure in Arlington, VA, Ultra Body Sculpt has got you covered! We specialize in a variety of innovative techniques personalized to each individual patient, ensuring high-quality results.
Schedule your consultation today by calling 703-988-2000 now!