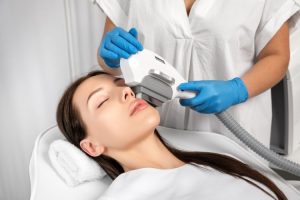 IPL in Arlington, VA, also known as intense pulsed light, is a form of light therapy used to treat a variety of skin concerns. This is done by releasing light of a variety of wavelengths, similar to a photo flash, hence being called an IPL photofacial. But what exactly is it, and are you a good candidate? Find out now!
Why Choose IPL?
This light-based treatment gently heats up the upper layer of your skin, triggering your cells to regenerate collagen and revitalize your skin. In turn, this minimizes the flaws associated with a lack of collagen and healing beneath the skin, such as age spots, rosacea, and wrinkles. While called an IPL photofacial, this therapy can be used on areas other than the face, such as your chest or hands as well.
What Does an IPL Photofacial Feel Like?
IPL should not require a topical anesthetic and is a very tolerable procedure. You may feel a slight snapping or flicking sensation. If you have a low pain tolerance and discomfort is an issue for you, talk to your specialist beforehand.
When Will I See My Results?
You can expect mild redness and the feeling of a sunburn post-treatment, but this will dissipate quickly on its own. As it does, you'll start to notice your results, including your skin appearing healthier and rejuvenated, several days after treatment.
Skin concerns will most likely begin to clear up in one to two weeks.
Am I a Good Candidate?
If you're healthy and have realistic expectations about treatment outcomes, you're likely a suitable candidate. IPL may not be for patients with darker skin tones, as it's meant to destroy pigment-producing cells. Consult with a provider to determine if an IPL photofacial in Arlington, VA, is right for you.
Where is the Best Place to Get an IPL Photofacial in Arlington?
Are you ready to experience the beauty of an IPL photofacial? Contact us online or give Ultra Body Sculpt in Arlington, VA, a call at 703-988-2000 to book your consultation today! Be sure to ask about our current money-saving special offers too!