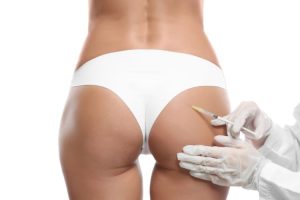 Have you gone as far as you could with exercise, "butt" your backside is still dragging the ground? Well, turn your frown upside down and boost your booty with a Sculptra butt lift in Arlington, VA. You can safely enhance your curves without the hassle and complications of surgery with this revolutionary non-surgical body shaping technique.
What is Sculptra?
Sculptra is an injectable dermal filler that can be used to erase fine lines and wrinkles. Now you may be asking yourself, "but wait, I thought we were talking about butt augmentation?"
The great thing about this unique product is that it not only can help with signs of aging, it can help with plumping as well, and in this case, plumping your rear end!
Why Choose a Sculptra Butt Lift in Arlington?
A Sculptra butt lift in Arlington, VA, not only gives you a little pick-me-up for your backside, but it also increases volume and reduces the appearance of dimpling. There are no dangerous risks involved, and very minimal downtime is needed for recovery. You'll find it's also considerably less expensive than surgery.
What Do Sculptra Injections Feel Like?
Most patients report a pinching sensation as you'd feel with any cosmetic injectable. It's certainly manageable, but if you're concerned speak to your provider beforehand about a topical numbing cream to minimize discomfort.
When Will I See My Butt Lift Results?
Sculptra butt lift results do take time, so be patient while your body responds to the active ingredient, poly-L-lactic acid.
It could take several months and multiple injections to achieve your desired results. However, your results will be long lasting, remaining for up to two years.
Am I a Good Candidate for This Treatment?
This treatment is ideal for those who are healthy and wish to obtain a subtle, natural looking lift. The only way to find out for sure if you qualify is to book a consultation with a Sculptra butt lift specialist.
Where Should I Go if I Want the Best Sculptra Butt Lift in Arlington?
If what you are looking for are amazing butt lift results plus high-quality personalized care, then choose Ultra Body Sculpt in Arlington, VA. You can meet with one of our experts by scheduling your free consultation today!
Contact us at 703-988-2000. We're thrilled to partner with you on this journey to a beautifully sculpted backside!