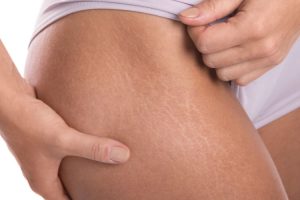 Stretch marks are a normal part of life, occurring due to weight loss/gain, aging, or pregnancy. That being said, they can be a source of insecurity and are difficult to eliminate. Morpheus8 is a minimally invasive, highly effective treatment for stretch marks in Arlington, VA, combining both microneedling and radiofrequency.
Why Choose Morpheus8 for Stretch Marks?
Microneedling and radiofrequency are a powerhouse duo, delivering heat and a deep fractional treatment to stimulate collagen production and healing of your skin's tissues.
The micro-injuries created by microneedling encourage your skin to heal and reveal healthier, smoother skin that is free of stretch marks. Radiofrequency heats the deepest layers of your skin to tighten and aid in the healing process.
What Does Morpheus8 Stretch Mark Treatment Feel Like?
Prior to your Morpheus8 treatment, your provider will apply a topical anesthetic. This minimizes pain and allows you to relax during your treatment session.
When Will I See My Results?
It can take anywhere from one to two months before your newly rejuvenated collagen production creates visible results. Many patients require four to three sessions to get the most out of their treatment and receive dramatic results.
Am I a Good Candidate for Morpheus8?
Morpheus8 is as safe as it is effective, capable of treating multiple skin types and tones. Patients with injuries in the treatment area or certain skin conditions may be discouraged from treatment. Consult with your provider to see if Morpheus8 is right for you.
Where is the Best Place to Treat Stretch Marks in Arlington?
If your stretch marks are getting you down, Ultra Body Sculpt in Arlington, VA, is here to lift you up! We offer personalized Morpheus8 for face and body treatments including hyperhidrosis and stretch mark elimination, so book your appointment today at 703-988-2000! Ask about our membership plans when you call!