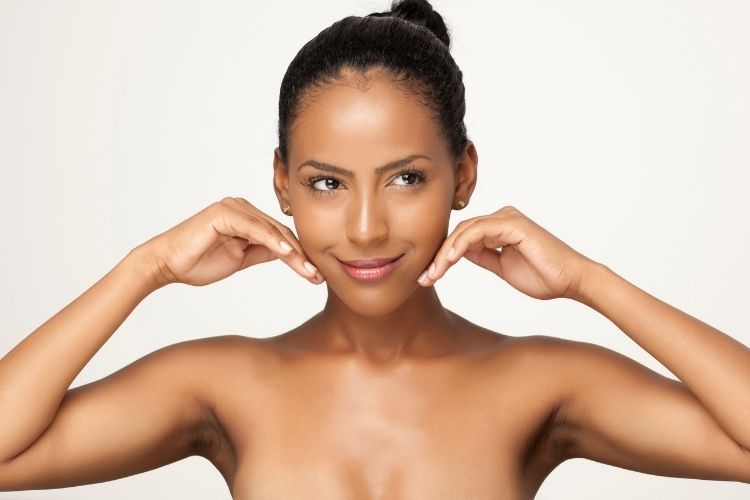 Sick of wasting time on razors? Just can not stand any more waxing? Laser hair removal (LHR) is just what you need, and it works well for all skin tones! However, there are some considerations to take if you are considering laser hair removal for dark skin.
Take a look at these tips from our laser hair removal specialist in Arlington, VA, in preparation for your newly smooth skin.
Laser Hair Removal Works on Dark Skin, But It Didn't Use To
Traditionally, lasers for this treatment were not sophisticated enough to work on darker skin that didn't have a contrast in hair color. This is because they worked by distinguishing between the contrast of skin and hair follicle color.
Now, better options exist for laser hair removal for dark skin tones through new(ish), cutting-edge technology, such as the Nd:YAG which uses a wavelength of light that penetrates deep enough into the skin so that pigment is not affected.
Diode lasers are another option, and they work slower than other lasers to allow the skin more time to cool. This fast and comfortable treatment can work on your legs, arms, back, upper lip, chin, bikini area, and other places where you have unwanted body hair.
Here's What You Should Know About LHR Aftercare
It is very important to avoid heat after your treatment. This means you should skip hot showers or baths, exercise that causes you to sweat, and spending time in the hot sun. These are necessary steps to avoid rashes and skin irritation. You should also avoid any perfumes or scented lotions for at least a few days after your treatment.
Ready to Book the Best Laser Hair Removal for Dark Skin in Arlington, VA? Visit Ultra Body Sculpt!
At Ultra Body Sculpt, we pride ourselves on offering the best laser hair removal for dark skin in Arlington, VA. We are here to help you find a fantastic option for your skincare needs.
Call us at 703-988-2000 today to book a consultation with one of our laser specialists, so you can be hair-free and carefree by the time the new year arrives! Be sure to ask about our current specials on LHR and other cosmetic services, too!
Related Posts