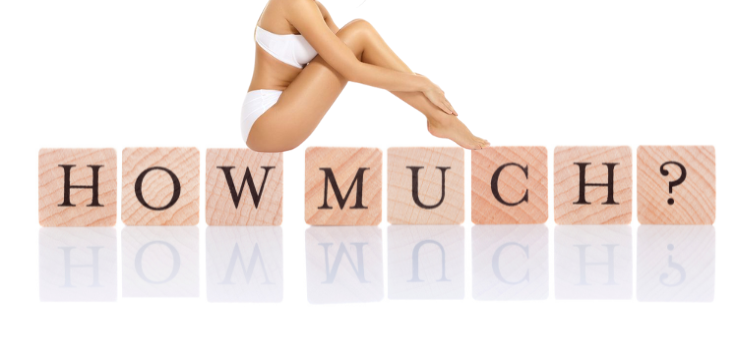 If you're tired of constant shaving, painful ingrown hairs, and wasting money on products that don't work, it's time to consider laser hair removal. Millions of men and women have, and so should you! Consider this your expert guide to how treatment works, what you can expect, and of course, laser hair removal cost in Arlington, VA.
So, What's the Bottom Line on Laser Hair Removal Cost in Arlington, VA?
Depending on the area you are treating, the average cost of one laser hair removal session is $389. However, in order to get the best quote on laser hair removal cost in Arlington, VA, you need to schedule a consultation with a skilled and experienced technician.
While the average laser hair removal cost may be $389, not all treatments are that expensive and not all treatments are that cheap. As mentioned above, it depends on the area you want treated, amongst other things. For instance, laser hair removal on your upper lip may just cost $99, when treatment on your entire back may cost over $500.
Other factors to consider when determining the cost of laser hair removal is geographic area (aka where the office is), how experienced your technician is, and if there are any specials or memberships currently running.
Are There Ways to Save Money on Laser Hair Removal?
The need to save money is certainly understandable. Yes, it is possible to save on the laser hair removal cost in Arlington. When contacting your provider, ask about specials or discounts. Many offer first-time customer discounts, as well as price cuts if you bundle services, such as treating multiple areas at a time, paying up front for all sessions of one specific area, or even adding a separate skincare service such as a facial.
Another good tip is to find out if your provider has a membership program. These help save money and allow you to take advantage of other cosmetic services at a discounted rate.
Just be careful. Your health and safety should also be a priority. So when choosing your LHR specialist, make sure you find one who is reputable and has experience with successful laser hair removal. Verify those credentials!
Is Laser Hair Removal Really Safe for Everyone?
There was a time when laser hair removal was not safe for everyone. People with dark skin risked burns, blistering, and other damage, but that's no longer the case. With great strides in technology, laser hair removal is now safe for all skin types.
Does It Take Long to See Your Results?
Everyone is different, so results vary. While some people do notice thinning hair after one treatment, others need a series of treatments to see optimal results.
Your final results from laser hair removal do take some time, so patience is definitely needed with the process. Your hair growth cycle plays a big part in the number of treatments you will need.
How Many Treatments Will I Need?
The number of laser hair removal sessions you need depends on the areas you are treating and the type of hair. Most patients find six to eight sessions for larger areas enough to achieve their goals.
Do I Need a Consultation? What Should I Expect?
Before getting any cosmetic service, you should always have an LHR consultation. You need a medical evaluation to make sure it's safe for you to move forward with laser hair removal.
You should also take this opportunity to share your aesthetic goals because that's the only way a treatment plan can be custom created for you. If you have questions, now is the time to ask your provider.
What Should I Know About Laser Hair Removal Prep and Aftercare?
LHR isn't a treatment you should have on a whim. You should prepare ahead of time for the best results. Your provider will give you full pre- and post-treatment instructions during your consultation, but here are some things to keep in mind.
Stay out of the sun as much as you can. This applies before and after laser hair removal. If you're not in the habit of using sunscreen daily, now is the time to start. Aim for one with an SPF of at least 30.
You should also avoid other methods of hair removal other than shaving. Plucking, waxing, and electrolysis are off limits for six weeks.
Speak to your provider about which medications and supplements if any you need to stop taking. Remember to speak to your primary care provider before stopping any prescription medications.
Is Laser Hair Removal Painful?
Pain is subjective, so not everyone experiences it to the same degree. The truth is that some find it quite uncomfortable, likening it to the sensation of a rubber band being snapped on the skin. You might feel a stinging sensation during laser hair removal.
If pain is a concern, you are encouraged to speak to your provider beforehand. A numbing cream can be applied to your skin before treatment to help minimize discomfort. Many lasers have built-in cooling to help make it a pain-free experience. Plus, there may be an over-the-counter pain reliever your LHR provider recommends you to take about 30 minutes before your appointment.
Does Laser Hair Removal in Arlington Have Side Effects?
There isn't a cosmetic treatment that doesn't have some risk of side effects. With laser hair removal, they're typically very minor. You may notice redness and / or swelling, and your skin may be sensitive. It is also possible to experience temporary skin discoloration. Your provider will explain to you how to minimize side effects to ease your discomfort.
I'm Excited About LHR and Want the Best Results! Where Should I Go?
If you live in the Northern Virginia area, the only place to go for amazing LHR results and the best laser hair removal cost in Arlington, VA, is Ultra Body Sculpt!
Whether you want full-body laser hair removal or simply want to treat one or two areas, you're invited to schedule a free consultation with one of our experts so we can create a personalized treatment plan for you. Contact us at 703-988-2000 today!
Related Posts