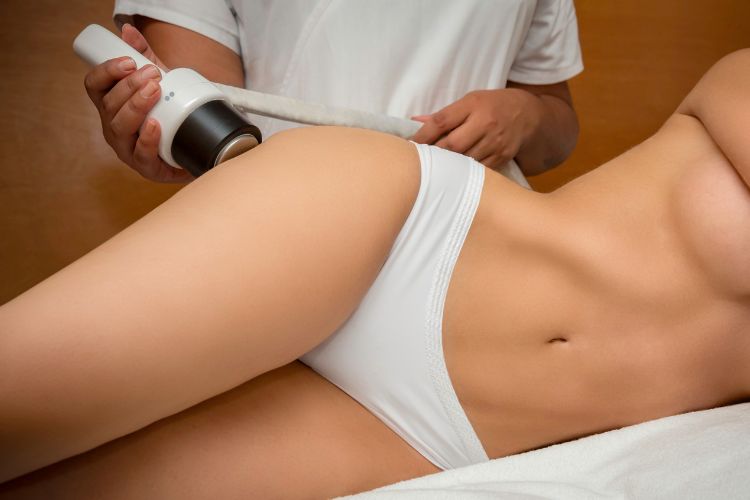 Cellulite is nobody's friend. It can be embarrassing and even put a serious dent in your self-esteem. If you find yourself constantly trying to cover your cellulite and hoping for a way to get rid of it, you're in luck! Cellulite reduction in Northern Virginia is not only entirely possible, but there are exciting treatments that have proven safe and successful!
4 Best Options for Cellulite Reduction in Northern Virginia
Before digging into the cellulite basics, here are four of the top non-surgical options for cellulite reduction in Northern Virginia.
Emtone
Emtone, a non-invasive cellulite treatment, utilizes an innovative technology that requires zero downtime for recovery.
Emtone sessions last only around 20 minutes, during which you'll feel a sensation similar to a vibrating hot stone massage. While you might see results after one treatment, it is possible to need at least four Emtone sessions.
It is worth it though, because with Emtone, you'll enjoy tighter and firmer skin, tissue rejuvenation, and increased collagen production.
Skin Tightening Treatments
This is a whole different level of cellulite reduction options! Non-invasive skin tightening treatments like IPL, microneedling, microdermabrasion, and laser therapy can all help improve your skin texture.
The duration of your appointment, the cost, and your results depend on the treatment you choose. However, you can count on incredible results from each one!
Venus Legacy
If you're one of the nearly 90% of women who will have cellulite, you may want to give Venus Legacy a try. This is a non-surgical treatment that directly targets cellulite, as well as your underlying fat cells that contribute to skin dimpling.
Each session takes about a half hour, and you won't need to schedule any recovery time after your appointment. If you're concerned about pain, don't be. These treatments are customized and can easily be adjusted to suit your unique level of comfort.
To achieve the best results, you'll want to schedule between six and eight sessions per area. You should also plan on maintenance treatments every three to four months.
Venus Bliss
This treatment not only significantly minimizes the appearance of cellulite, but Venus Bliss also tightens skin and reduces small pockets of fat on the neck, face, and body.
It uses FDA-approved multipolar radiofrequency and electromagnetic pulse technologies that deliver a thermal reaction to deep layers of tissue. This process stimulates your body's natural healing process, improving your circulation and triggering the production of collagen.
This is a fantastic painless option for cellulite reduction in Northern Virginia, as it is safe for all skin types and it can be used safely with other treatments.
Why Do I Even Have Cellulite?
Cellulite results when fibrous septae irregularly tighten and pull on the skin. This process is what gives your skin that "cottage cheese" look.
While anyone can have cellulite, there are lifestyle factors that can increase your chance of having it. Things like weight gain, pregnancy, an unhealthy lifestyle, inactivity, and genetics can all be contributing factors.
Is Cellulite Reduction in Northern Virginia Right for Me?
To find out if you are an ideal candidate for any cellulite reduction treatment, you should schedule a consultation with a reputable provider offering cellulite treatments. As long as you are in good health and have a desire to rid yourself of unwanted cellulite, chances are one or more of the cellulite reduction treatments are a good choice.
How Do I Maintain My Cellulite Reduction Results?
If you've invested in treatment to get rid of cellulite, you want to enjoy your results for as long as possible. The good news is that there are simple steps you can take at home that go a long way toward long-lasting results.
Keep your visceral fat in check. Fat reduction treatments target subcutaneous fat but not visceral fat, which is the dangerous fat that can surround your organs. This type of fat can only be controlled through a healthy diet and exercise.
Exercise is key to maintaining muscle mass. When you lose muscle mass, you lose volume which can result in cellulite. Not sure how to keep an eye on muscle mass? It might be a good idea to ask your provider about a full-body analysis.
Also, stay hydrated. Non-surgical cellulite reduction in Northern Virginia often relies on your lymphatic system and your body's natural waste elimination. Water plays a crucial role in how those systems work and helps your body flush out any toxins.
Ask your provider about at-home products. Some products do actually work and will help you maintain and enjoy your smooth skin. If you're not sure which ones are right for you, make sure you ask your cellulite reduction specialist.
Lastly, it's important you complete your entire series of treatments. During your consultation, your provider will work with you to create the perfect treatment plan to achieve your goals and will tell you when to schedule your sessions. Skipping even one appointment can interfere with your results.
Choose the Experts at Ultra Body Sculpt for Outstanding Results From Cellulite Reduction in Northern Virginia!
At Ultra Body Sculpt, we have a unique perspective on helping you look your best. We provide a level of quality service you simply can't find anywhere else! Our priorities are safety, integrity, respect, and making sure you are treated with the personalized attention you deserve.
If you are troubled by unsightly cellulite, we have no doubt we can find the right treatment for you, so give us a call today! To schedule your consultation for cellulite reduction in Northern Virginia, contact us at 703-988-2000. Be sure to ask about our current specials and membership options too!
Related Posts