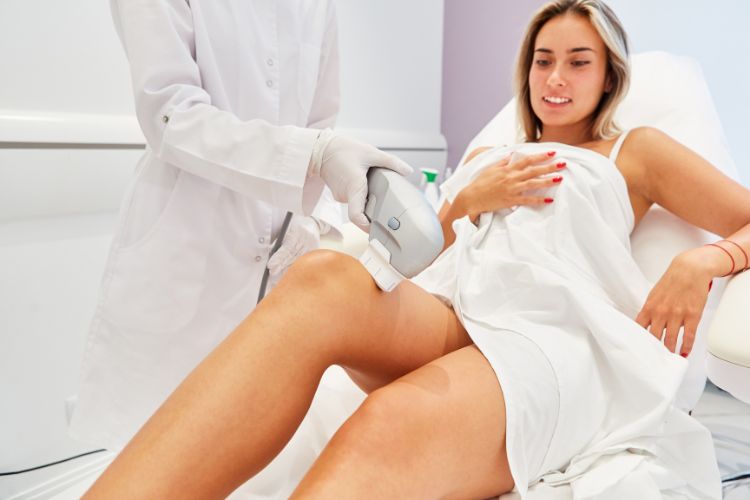 Gravity isn't your friend when it comes to skin, acting as the main culprit for sagging and loss of skin elasticity. But, do so-called skin tightening treatments from a body contouring provider really work? Which ones are the best? Keep reading to learn the top seven skin tightening treatments in Arlington, Virginia!
Here Are Our 7 Top Skin Tightening Treatments Available in Arlington
Emtone
Emtone is the first and only device that combines mechanical and thermal energies to rejuvenate tissue and boost collagen production. Although most commonly advertised for cellulite reduction, of which it is highly efficient for, Emtone is also beneficial for tightening the skin in general.
While many patients notice improvement after just one session, most patients achieve optimal results with four sessions that can be scheduled once or twice a week. What sets these 20-minute sessions apart is how relaxing they are, thanks to Emtone's use of heat and intense vibrations, mimicking a hot stone massage.
Results from Emtone continuously improve for a few months, and downtime is not necessary after treatment.
IPL Photofacial
An IPL photofacial uses intense pulsed light to heat the upper layer of your skin and stimulate collagen regeneration for optimal skin rejuvenation and tightening. It uses short bursts of high-intensity light, similar to the flash of a camera, to produce tighter, younger looking skin.
IPL tackles all of your aging concerns, treating age spots, wrinkles, uneven skin tone and texture, and more. Thanks to its collagen boosting effect, skin appears tighter and firmer. What makes it even better? It's fast acting. Improvement in skin's health and appearance is visible in just a couple of weeks.
Like most skin tightening treatments, patients typically benefit from more than one. Your photofacial plan will be personalized to your aesthetic goals.
Morpheus8
Radiofrequency has proven to be one of the most effective technologies for skin tightening. Morpheus8 responded by taking radiofrequency to the next level by combining it with microneedling for supreme full-body fractional remodeling.
Morpheus8 is incredibly customizable, offering two different handpieces and four different microneedling tips for the deepest fractional treatment possible.
Both microneedling and radiofrequency trigger and improve collagen and elastin production for tighter skin, throwing in wrinkle reduction and an overall more even complexion as a bonus. Dramatic improvement is seen in three to four weeks and continues for three months. More than one treatment is often not necessary but may be recommended by your provider based on your needs.
Sofwave
Sofwave is famous for its tightening and lifting ability. Essentially a non-surgical facelift, Sofwave uses ultrasound energy to stimulate and remodel your collagen and elastin production, dramatically reducing fine lines and wrinkles as well as tightening and firming your skin.
Most patients only need one treatment to see dramatic results that can last as long as three years. Final results are visible in just 12 weeks after one easy treatment session that takes less than an hour and is surprisingly comfortable, relying on heat to get the job done right.
Thread Lifts
A thread lift is a minimally invasive procedure that reduces skin sagging. It uses absorbable, barbed sutures to lift, as well as stimulate collagen production. Albeit more subtle than a traditional facelift, thread lifts are still incredibly powerful for tightening the skin and producing a younger appearance, all without surgery.
What makes thread lifts so great is how instant the results are. Patients can walk out of the door after their lunchtime lift with the effects already visible.
Full results are apparent in just one to two months, and last anywhere from one to two years. Unlike a surgical facelift, a thread lift won't require any significant downtime for recovery.
TriBella
Tribella is the trifecta of facial rejuvenation treatments. It blends intense pulsed light therapy, radiofrequency technology, and the DiamondPolar applicator. By combining these powerful tools, Tribella promotes blood flow, stimulates both collagen and elastin production, and improves overall skin tone and texture.
Most patients benefit from a series of three treatments in order to achieve optimal results. After your third treatment, you should notice significant improvement that continues for up to three months.
Venus Bliss
Venus Bliss is one of a kind. If you struggle with skin laxity in the body, you'll especially benefit from this diode laser and radiofrequency treatment.
It's exceptionally great at tightening skin, treating cellulite, and even reducing fat and circumference for a slimmer, tighter figure – with no surgery and no downtime necessary. It both strengthens connective tissues and tightens skin while taking your collagen and elastin fibers to the next level.
While Venus Bliss may be effective with just one 25-minute treatment, many patients require more than to get the most out of the procedure. These treatment sessions are spaced six weeks apart. After your treatment plan is completed, full results are visible after three to six months.
Not Sure Which Skin Tightening Treatments in Arlington, VA, are Right for You? Consult With Our Experts at Ultra Body Sculpt!
If you're feeling spoiled with choice and unable to decide which one is right for you, we understand! Ultra Body Sculpt is home to the most innovative non-surgical procedures for skin tightening and so much more. We take a comprehensive approach and personalize treatment to your individual needs in order to achieve your aesthetic goals.
To make it even better, we offer exciting membership options featuring some of the treatments listed above to ensure that you get the most out of your experience!
Give us a call today at 703-988-2000 to book your consultation and see which skin tightening treatments in Arlington, Virginia will work best for you!
Related Posts