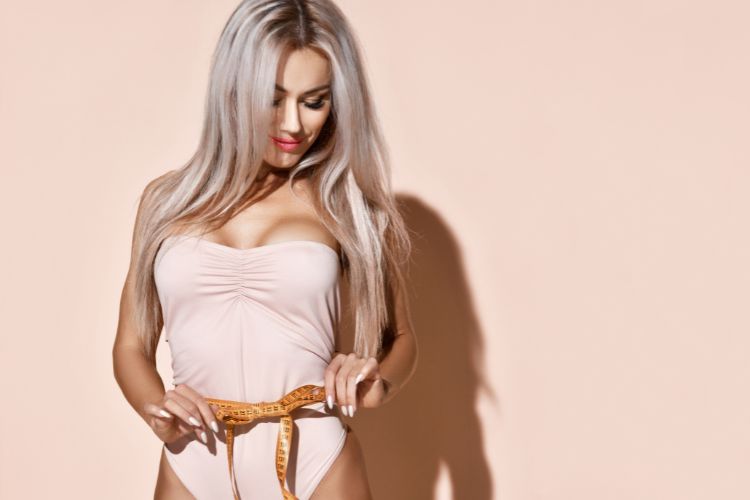 Non-surgical cosmetic procedures are on the rise, especially when it comes to fat reduction and body sculpting. The question is, do they actually work? Here's the "skinny" on body contouring in Tysons Corner, Virginia!
What is Non-Surgical Body Contouring in Tysons Corner?
By now, you're likely familiar with cosmetic surgeries like liposuction, or lipo. One of the most common surgeries in the United States, lipo is a permanent fat removal procedure that provides assistance when diet and exercise haven't been able to.
Unfortunately, plastic surgery is risky. The results are exceptional, but the recovery, side effects, and potential complications are not. To combat this, non-surgical fat removal was born! What exactly is it, though? Glad you asked.
Non-surgical body contouring or fat removal, whichever you'd like to call it, is a procedure used to remove stubborn fat. What makes it so convenient is its lack of invasive surgery, relying on innovative fat reduction techniques to permanently and non-surgically remove fat.
There are many ways this can be done. Some examples of the methods involved in non-surgical body contouring include but are not limited to cryolipolysis, radiofrequency, and electromagnetic technology. This variety makes non-surgical body sculpting suitable for almost everyone.
Why Should You Choose Non-Surgical Body Sculpting Treatments?
Non-invasive fat reduction comes with a ton of perks that traditional liposuction doesn't have. There's a reason this non-surgical procedure is only increasing in popularity for both patients and doctors.
The most notable benefit is its use of non-surgical, non-invasive techniques. This alone makes surgery-free body contouring well worth it. This single perk leads to many others, such as little to no downtime, no scars, stitches or staples, and no anesthesia required.
Treatments are quick, easy and effective. Although liposuction yields the most dramatic results due to its invasive nature, non-surgical body sculpting is still incredibly effective, not to mention significantly less risky with fewer side effects and complications.
The best part? Fat removal is permanent with all methods of non-surgical body contouring in Tysons Corner, guaranteeing long-lasting results without the fuss.
Do Body Contouring Treatments Actually Work?
It's only natural to be suspicious of any procedure that promises exceptional results without surgery. To many, non-surgical fat reduction is still believed to be a gimmick. You'll be pleasantly surprised to know that it's not.
All procedures used for non-surgical body contouring in Tysons Corner have been thoroughly tested and backed by both science and patients, receiving glowing reviews and high satisfaction rates across the board.
It's important to understand how these treatments work, however. Majority of fat removal procedures aren't going to be a one-and-done process with immediate results. While effective, it takes more than one treatment session to see significant results.
While these sessions are quick, it'll take a few weeks for your body to process and dispose of the destroyed fat cells. So, patience is key when it comes to revealing your exceptional results.
What Types of Non-Surgical Treatments Are Available for Body Contouring in Tysons Corner
The variety of non-invasive fat removal procedures is part of what makes them so great, suiting different needs and aesthetic goals in order to achieve your dream body. No body sculpting treatment is the same, so what are your options?
CryoSkin/CryoSlimming
CryoSkin is a cryolipolysis procedure that uses sub-zero temperatures to freeze and destroy fat cells that are then processed and disposed of by your body. The skin is warmed and then rapidly cooled to shock the fat cells, making the damage more effective.
CryoSkin can be used on the abdomen, arms, double chin, hips, love handles, thighs, and upper back. Three to six sessions are recommended. It's sister treatment, CryoTone, reduces cellulite and improves skin's overall texture, and CryoFacial treats fine lines and wrinkles on the face and neck.
Another procedure based on cryolipolysis, it first uses a lipolaser to disrupt and destabilize the structure of fat cells. Then, cryolipolysis comes in to freeze fat cells and trigger their death. The third step finishes it off with powerful ultrasound cavitation to further disrupt and break-up the treated fat cells for increased metabolism.
It's safe for use on the above areas as well as bra fat, buttocks, and the lower back. Best results are achieved with five sessions spaced two weeks apart.
Emsculpt/Emsculpt NEO
Emsculpt and Emsculpt NEO are incredibly unique in their ability to burn fat while also building muscle. This high-intensity focused electromagnetic therapy, or HIFEM for short, is the equivalent to 20,000 squats, crunches, curls, or calf raises in 30 minutes, using the power of supramaximal contractions to achieve exceptional fat reduction and muscle toning.
Most patients are recommended to complete two to four treatments to yield best results. It is cleared for use on the abdomen, arms, buttocks, calves, and thighs and is hailed as a non-surgical alternative to a Brazilian butt lift, or BBL.
Venus Bliss
Last but not least, Venus Bliss uses a diode laser complemented by radiofrequency to reduce fat and circumference, smooth cellulite, and tighten skin, an all-in-one treatment.
A lot of patients see results in just one session. However, many prefer to undergo multiple spaced six weeks apart to get the best results possible.
Contact Ultra Body Sculpt to Find Out if Body Contouring in Tysons Corner, VA, is Right for You!
Ultra Body Sculpt is proud to provide these amazing surgery-free body sculpting procedures and others as well! We also offer a full-body analysis and weight and nutritional counseling to help you achieve your aesthetic goals.
Book your consultation today by calling 703-988-2000 to see which services including non-surgical body contouring in Tysons Corner, Virginia is right for you!
Related Posts