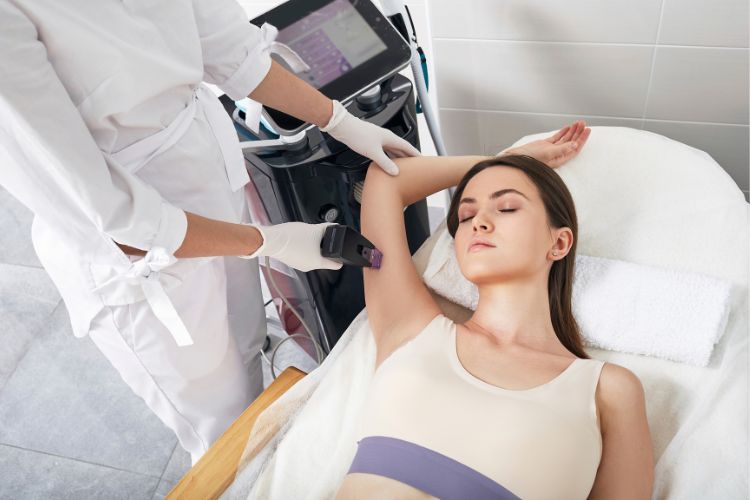 As you have gotten older, you may have noticed your skin has gone through changes that have impacted its appearance and texture. Wrinkles, fine lines, sagging skin, uneven tone, and texture are all signs you need the best skin tightening treatment in Alexandria.
Understanding the effects of aging on the skin is essential in developing an effective skincare routine and incorporating a top-notch professional treatment such as Morpheus8.
How Does Morpheus8 Work to Tighten Skin?
Morpheus8 works to tighten the skin through a combination of microneedling and radiofrequency (RF) energy. The treatment involves a handheld device with tiny microneedles that penetrate the skin, creating controlled microchannels. Simultaneously, RF energy is emitted through the microneedles, heating the deeper layers of the skin.
The heat stimulates collagen and elastin production, triggering a natural healing response in the skin for a tighter, firmer, and more youthful looking appearance. The microneedling component also promotes the remodeling of the skin's structure and enhances the absorption of topical serums or treatments.
The depth of the microneedles and the intensity of the RF energy can be customized based on the specific needs and concerns of each individual. By delivering energy directly into the deep layers of the skin, Morpheus8 addresses skin laxity, fine lines, wrinkles, acne scars, stretch marks, and uneven texture.
What Areas Can This Revolutionary Skin Rejuvenation Treatment Improve?
On the face, Morpheus8 can target areas like the forehead, cheeks, jawline, and neck. Additionally, it can be used on the body to tighten and improve the appearance of areas such as the abdomen, arms, thighs, and buttocks.
The versatility of Morpheus8 makes it the perfect treatment option for overall skin rejuvenation and tightening.
[Related: Morpheus8 can also treat
hyperhidrosis
and
stretch marks
]
Is the Best Skin Tightening Treatment in Alexandria Painful?
The level of pain experienced can vary depending on individual tolerance, but overall, it is considered to be comfortable. A topical numbing cream can be applied to minimize your discomfort.
What is Recovery Like? Are There Side Effects?
Common side effects of Morpheus8 treatment include redness, swelling, and mild discomfort in the treated area, which typically subside on their own within a few days to a week. Temporary bruising and pinpoint bleeding may also occur at the microneedling sites. You can resume regular activities right away, though you might want to avoid social situations if you're self-conscious about the appearance of the skin.
Be sure to follow post-treatment instructions provided by your provider and inform them of any concerns or unusual reactions experienced during the recovery period. You'll likely be advised to avoid sun exposure and to use sun protection during the healing process.
How Many Morpheus8 Treatments Do I Need for Fantastic Results?
The number of sessions required for great results can vary depending on individual factors such as the desired outcome, the condition of the skin, and the recommendations of the healthcare professional.
A typical treatment plan is a series of three to four treatments spaced about four to six weeks apart. It's essential to consult with a qualified provider to determine the ideal treatment plan for your specific needs.
How Long Does It Take to See Morpheus8 Results? How Long Do They Last?
Results can vary from person to person. Generally, noticeable improvements in skin texture and tightening can be seen within a few weeks after the initial treatment.
It may take several months for the full benefits of the best skin tightening treatment in Alexandria to become apparent as collagen remodeling continues over time. Multiple treatment sessions are often recommended for optimal results.
The duration of Morpheus8 results vary depending on individual factors and the maintenance routine. Generally, results can last for several months to a year or longer with proper skincare and lifestyle practices. Regular maintenance sessions may be recommended to sustain your results. Discuss with your provider specific expectations and timeline.
How Can I Find Out if Morpheus8 is the Right Skin Tightening Treatment for Me?
To determine whether Morpheus8 is the right skin tightening treatment for you, it is recommended to consult with a qualified provider. They will assess your specific concerns, examine your skin condition, and discuss your desired outcomes. During a consultation, they may inquire about your medical history and any existing skin conditions to ensure the treatment's safety and effectiveness.
Your provider will give you detailed information about Morpheus8, including the procedure, expected results, potential risks, and any alternatives. They may also show you before / after photos of previous patients to give you a realistic expectation of the outcomes.
By taking the time to have a consultation, you can have a personalized assessment and receive expert advice on whether Morpheus8 is the right skin tightening treatment for your unique needs and goals.
It should be noted that individuals who are pregnant or breastfeeding, have active skin infections or inflammations, or have certain medical conditions may not be suitable candidates for this treatment.
You'll Find the Best Skin Tightening Treatment in Alexandria at Nearby Ultra Body Sculpt!
Morpheus8 is the best skin tightening treatment in Alexandria, as it can offer you the opportunity to safely and effectively rejuvenate your skin and achieve a more youthful appearance. By consulting with one of our qualified team members, a personalized treatment plan can be developed to address your specific concerns while enhancing your natural beauty.
Call us at 703-988-2000 to book your consultation, and let's talk about how Morpheus8 can help you feel more confident and happy with the health of your skin. Be sure to ask about our payment plans for low monthly installments!
Related Posts