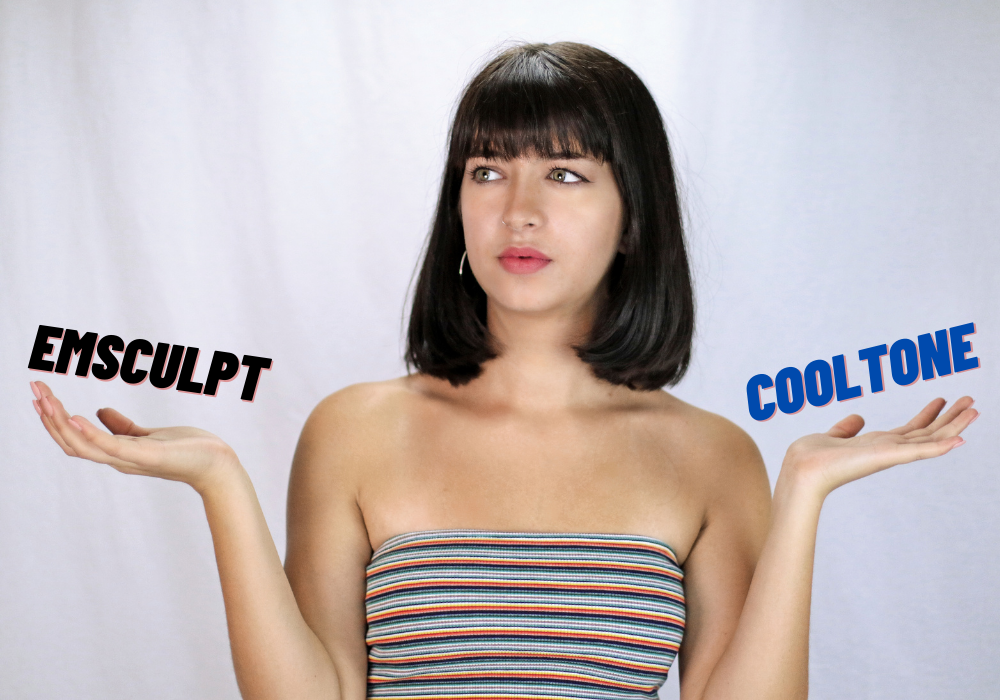 If you are looking for way to effectively and safely sculpt and contour your body, you have probably heard of treatments that will do just that. Emsculpt vs CoolTone, we hear it day in and day out. They are both designed to burn fat and build muscle, so what's the difference? How do you choose which one is best for you?
That's where we come in. Keep reading to learn all about the similarities and differences of Emsculpt and CoolTone.
Emsculpt vs CoolTone
The benefits of both treatments are similar. Here's what they have in common:
FDA-cleared
Pain free and non-invasive
No downtime
Quick treatments
Great for men and women
Strengthens, firms, and tones muscles
Designed to improve muscle tone
Works for abdomen, buttocks, thighs, calves and arms
How Emsculpt Works
Emsculpt uses HIFEM (high intensity focused electromagnetic energy) to create muscle contractions stronger than you can achieve through voluntary exercise. These supramaximal contractions force the muscles to adapt and remodel their inner structure. This results in muscle building and body sculpting.
Since it creates contractions stronger that what you can achieve with physical training, it yields better muscle tone and enhanced fat metabolism. Emsculpt destroys fat while building your muscles and creating a firmer, more toned appearance. On average, Emsculpt achieves the following results:
19% reduction of fat
4 cm (1.5 inches) loss in waistline circumference
16% increase in muscle mass
11% reduction in abdominal muscle separation (called diastasis recti)
5 x increase in fat metabolism (apoptotic index increased from 19% to 92% after treatment)
80% patients with visible lifting effect of buttocks
96% patient satisfaction
CoolTone
CoolTone, which was developed by Allergan, uses Magnetic Muscle Stimulation technology to induce involuntary muscle contractions. This strengthens the muscle fibers and improves muscle conditioning. This creates a firmer, more defined appearance.
Both treatments use a similar method for stimulating muscle growth and reducing fat. However, CoolTone has around 50% more magnetic intensity. This is measured in tesla (T) at the point of patient contact. 0.9T with Emsculpt and 1.35T with CoolTone. The clinical significance of this data has not been established.
Schedule a Consult for Emsculpt in Northern Virginia
Emsculpt was one of the first muscle building devices on the market. It has shown amazing results and has 7 clinical trials with over 200 patients to back up the results of the treatment. If you are interested in non-invasive body sculpting treatments, please contact our office online or give us a call at (703) 988-2000 today.
Related Posts