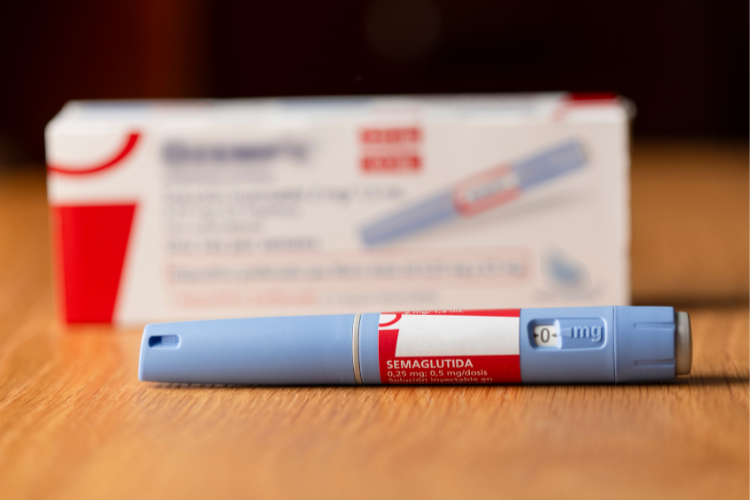 In the never-ending quest for effective weight loss solutions, Ozempic has sparked a new wave of hope for individuals struggling with obesity. This revolutionary injectable medication, powered by semaglutide, has emerged as a frontrunner in the realm of the best weight loss injections in Alexandria, VA.
We're going to dive into the wonders of Ozempic, explore how semaglutide works and its potential side effects, and provide guidance on choosing a reputable med spa offering this remarkable treatment.
Here's Why Everyone's Raving About the Benefits of Ozempic, One of the Best Weight Loss Injections in Alexandria
At the heart of Ozempic's success lies its key component, semaglutide, which belongs to a class of medications known as glucagon-like peptide-1 (GLP-1) receptor agonists.
Semaglutide offers a multifaceted approach to weight reduction. By mimicking the action of the hormone GLP-1 in the body, semaglutide works to:
Prevent the liver from overproducing and releasing sugar

Regulate blood sugar levels

Slow down digestion gastric emptying to promote feelings of fullness
Numerous clinical trials have demonstrated Ozempic's superior efficacy compared to other weight loss injections in Alexandria, VA. In a landmark study, participants treated with Ozempic experienced significant weight loss, with an average reduction of 15% or more of their initial body weight.
Unlike many weight loss treatments that require strict adherence to complex regimens, Ozempic only requires a once-weekly injection. This ease of use enhances patient compliance and ensures a consistent dosage, maximizing the potential for successful weight loss. However, for optimal results, you should combine semaglutide with a healthy diet and lifestyle.
There are Side Effects of the Best Weight Loss Injections in Alexandria You Should Know
It's important to be informed of any possible adverse effects when using semaglutide or other weight reduction injections to lose weight. The good news is that you may employ a number of ways to successfully minimize these adverse effects and make your experience more comfortable.
Here are some quick suggestions for dealing with common Ozempic side effects:
Digestive issues

: Make sure to include a variety of fiber-rich foods in your meals, such as fruits, vegetables, whole grains, and legumes. This can help avert diarrhea or constipation. Eating smaller meals that aren't well seasoned can help manage symptoms like heartburn.

Hypoglycemia

: You could experience low blood sugar levels, though this is uncommon. Check your blood sugar frequently to quickly identify and treat any hypoglycemia episodes. Keep a supply of quick-acting carbs on hand. Inform your friends, family, and coworkers about your condition so they will be prepared to help you if you experience a hypoglycemic episode.

Nausea and / or vomiting

: Before taking your medication, eat a meal or a snack to reduce this adverse effect. Choose smaller, more frequent meals that are bland r. Additionally, staying hydrated might help reduce nausea. To stay hydrated during the day, consume hydrating beverages.
Please contact 911 or visit the closest emergency facility if you have any life-threatening symptoms, such as an allergic reaction.
Everyone reacts differently to medicine, so it's important to let your doctor know about any adverse effects you encounter such as the ones above or headaches, fatigue, dizziness, or anything else. They can provide you individualized guidance and support in coping with the particular side effects of semaglutide.
Choose the Right Provider for Ozempic With These Simple Tips
Selecting a reputable provider is crucial to ensure the highest standard of care. Here are some key considerations when searching for an Ozempic prescriber:
Credentials and expertise

: Look for certified healthcare professionals who specialize in weight loss management. Verify their credentials, experience, and expertise in administering Ozempic injections.

Comprehensive approach

: A reputable provider should offer more than just Ozempic injections. Look for a facility that takes a comprehensive approach to weight loss, providing additional support through dietary counseling, exercise guidance, and ongoing monitoring.

Safety and sanitation

: Prioritize adherence to strict safety protocols and maintenance of a clean and hygienic environment. Ensure that they follow the necessary guidelines for handling and administering injectable medications.

Comprehensive approach

: A professional that takes a holistic approach to weight loss will provide additional support through dietary counseling, exercise guidance, and ongoing monitoring. This comprehensive approach enhances the overall effectiveness of Ozempic treatment.

Client testimonials and reviews

: Read

online reviews

and testimonials from previous clients to gauge their satisfaction levels and the provider's track record. Authentic feedback from individuals who have undergone Ozempic treatment can provide valuable insights into quality of service.

Personalized treatment plans

: Each individual's weight loss journey is unique, and a provider recognizes this. They should provide personalized treatment plans tailored to your specific needs and goals. This may include regular check ins, progress tracking, and adjustments to the treatment regimen as necessary.

Transparent pricing and financing options

: Inquire about the pricing structure for Ozempic treatment at the med spa. Ensure they provide transparent information about the costs involved, including consultation fees, follow-up visits, and the medication itself. Additionally, ask about any available financing options or assistance programs that may help manage the cost.
Lose Weight and Feel Better Than Ever Through Ozempic Injections From Our Qualified Team
By harnessing the power of semaglutide, the best weight loss injections in Alexandria provide individuals struggling with obesity a renewed sense of hope and a path towards sustainable weight loss. Embrace this innovative treatment, alongside lifestyle changes and professional guidance, here at Ultra Body Sculpt!
When you feel healthier, you feel better emotionally and physically. Contact us today at 703-988-2000 to book your consultation and learn more about how we can help you reach all of your wellness goals for improved physical and emotional health!
Related Posts