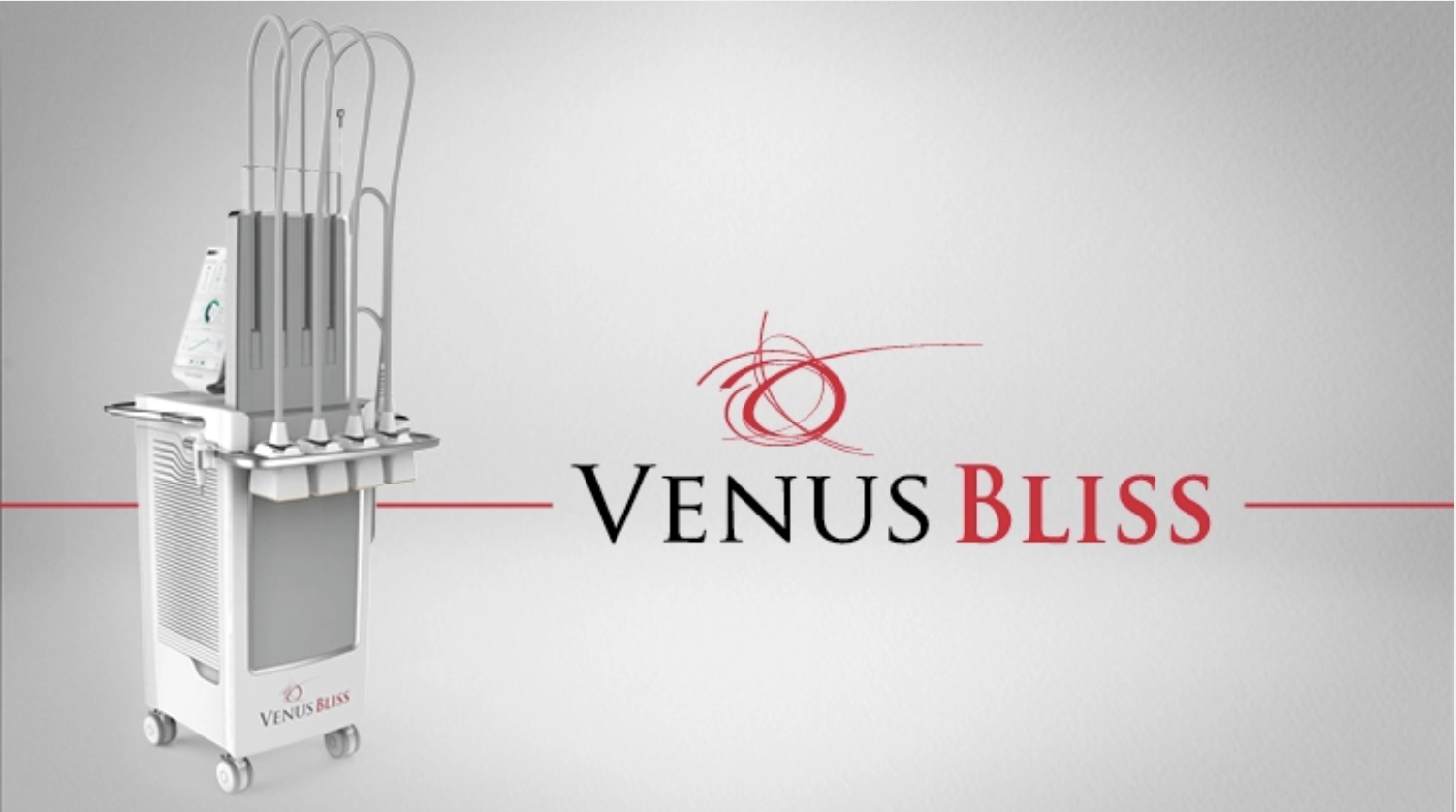 Struggling with stubborn areas of fat? Maybe you have cellulite that bothers you. Previously, liposuction was the preferred treatment for ridding the body of unwanted fat and cellulite. However, there are now several noninvasive alternatives. Let's explore the benefits of Venus Bliss for cellulite and fat reduction in Arlington, VA.
Venus Bliss
Venus Bliss offers patients a non-invasive fat reduction treatment that is safe, effective and virtually painless.
Now, you can get the body shape you want, without the downtime and pain associated with liposuction and other surgical procedures.
Venus Bliss uses a diode laser and (MP)2 technology to activate natural lipolysis. Adipose tissue is liquified and then naturally expelled from the body through the lymphatic system.
It can easily target problem areas such as the flanks and abdomen leaving the area slimmer, tighter, firmer, and smoother. It is also used for the reduction of cellulite.
Venus Bliss for Circumferential Reduction
Venus Bliss can be used to reduce the circumference of treated areas, especially areas that are difficult to alter with exercise alone.
The treatment is fast and delivers results without the downtime of surgical options. This leaves treatment areas significantly slimmer. Treatment works for various areas including the waist, arms, and thighs.
Venus Bliss for Fat Reduction
Venus Bliss uses (MP)2 technology to activate natural lipolysis. It works great for stubborn areas of fat. This treatment eliminates the fat and helps contour and enhance the treated areas.
Cellulite Reduction
When fat cells bulge through the layers of skin, a lumpy appearance is created. This is cellulite. Venus Bliss efficiently reduces the appearance of cellulite and strengthens the various layers of skin as well, preventing adipose tissues from bulging through.
It also supports fat reduction. By decreasing the adipose tissues that bulges from the surface of the skin, the overall appearance of cellulite is also improved.
Skin Tightening
Fat loss normally means sagging, loose skin. However, Venus Bliss works to leave the skin tight and smooth after fat reduction so patients don't have to worry about skin laxity after their treatments.
The skin tightening treatment also improves collagen and elastic production.
(MP)2 Technology
(MP)2 technology is the combination of Pulsed Electro Magnetic Field and Multi-Polar Radio Frequency. Is allows the machine to activate lipolysis through a non-invasive procedure.
PEMF uses a low electromagnetic field energy to stimulate the skin and adipose tissue underneath. This disrupts the fat cells, causing them to shrink.
Then, Multi-Polar Radio Frequency energy is delivered into the deeper layers of skin. This allows the targeted area to reach therapeutic levels which helps melt away fat and tighten the skin at the same time.
VariPulse Technology
VariPulse a feature that is unique to Venus Concept machines. These applicators are designed for maximum efficiency. It provides positive and negative air pressure to create pulsed suctions. This is adjustable, so treatment is easily customized for each patient.
The VariPulse technology improves blood circulation and lymphatic drainage while enhancing the effects of the natural lipolysis. The applicator also serves to increase patient comfort and make the treatment easier to apply.
Schedule an Appointment for Treatment With Venus Bliss in Arlington
If you are looking to eliminate fat or reduce the appearance of cellulite without the risks, pain, and recovery of expensive surgeries, Venus Bliss is the answer!
To schedule an appointment for cellulite or fat reduction in Arlington, VA, contact us online or call (703) 351-5251 today!
Related Posts