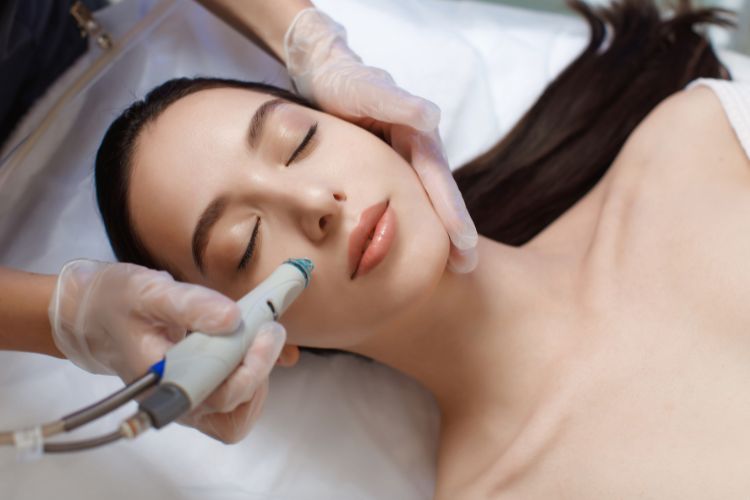 Want cleaner, clearer, smoother, glowing skin? A HydraFacial in Northern Virginia is an easy way to rejuvenate and tackle a myriad of skin concerns in one easy treatment! But, is this beloved facial expensive? How much does a HydraFacial cost near Arlington, VA? How effective is it? When will you see results?
Here's what you need to know about pricing and other important details regarding this "skinsational" service!
What Exactly is a HydraFacial in Northern Virginia?
A HydraFacial is a non-surgical, non-invasive skin treatment that uses a process of only three steps to rejuvenate and freshen your skin. This quick, easy, and relaxing facial involves the following steps:
Step One

: Your HydraFacial specialist deeply cleanses your skin to loosen dead skin cells, soften your skin, and prepare the area for extractions.

Step Two

: Your provider then goes in with a painless suction device to remove congestion, bacteria, and other gunk from your pores in this easy-going extraction process.

Step Three

: Your skin is then thoroughly hydrated and saturated with nourishing peptides, as well as intense moisturizers and serums.
There are a variety of serums and moisturizers your provider may use, depending on your skin type and the current issues you wish to treat, making this a fully customizable service!
What Skin Concerns Can a HydraFacial Address?
What doesn't a HydraFacial treat is the more accurate question? This incredibly versatile facial is a powerhouse for general skin rejuvenation and addressing a plethora of skin concerns, which include but are not limited to:
Acne

Congestion

Dark spots

Dry or dehydrated skin

Elasticity

Enlarged pores

Fine lines and wrinkles

Firmness

Oily skin

Rosacea

Uneven skin pigmentation and texture
As you can see, a HydraFacial can nearly do it all, ticking off all of the boxes!
How Many HydraFacial Treatments Do You Need to See Results?
What makes a HydraFacial such a popular in-office treatment is that only one facial is needed to see a drastic improvement in your skin's health, especially if your concerns aren't significant. That being said, if you're treating issues like acne, fine lines, or rosacea, you may be recommended to undergo multiple HydraFacials.
The developers of the HydraFacial recommend at least one treatment every month if possible for optimal results, adding it to your normal skincare regimen. If you just want to freshen up your skin before an event or just because you feel like it, a HydraFacial in Northern Virginia can do exactly that in just one treatment session.
Who is an Ideal Candidate for a HydraFacial in Northern Virginia?
The beauty of a HydraFacial in Northern Virginia is that it's suitable for everyone. Yes, everyone. HydraFacials are designed to be completely accessible and inclusive, no matter your skin type or tone. Even the most sensitive skin types can benefit from this remarkable treatment.
Still, make sure to consult with a HydraFacial specialist for a comprehensive skin assessment so they can personalize this treatment to your needs. Additionally, if you're allergic to certain ingredients found in skincare, make sure to mention that during your consultation so they can avoid products that contain them.
Are There Any Risks Associated With a HydraFacial? Is the Treatment Safe?
Because HydraFacials are non-invasive, there aren't many side effects or risks associated with them. Again, the only concern is if you have ingredient allergies, but this can be avoided. At most, patients experience very brief redness or tightness right after their facial.
There's no downtime associated with HydraFacials either. You're free to put makeup on, resume your standard activities, and / or return to school or work immediately after treatment.
Patients do note that the exfoliation feels similar to a cat's tongue on the skin, but it certainly isn't painful or even uncomfortable really. All steps are designed to be pain free and even relaxing, including the extraction process.
How Much Does a HydraFacial Cost in Northern Virginia?
Okay, let's get down to the question you really want an answer to: how much does a HydraFacial cost near Arlington, VA? Is it expensive? More importantly, is it worth it?
Investing in your skin is always worth it. Your skin is your largest organ, offering your body protection from the harsh elements in the world. So, don't be afraid to spend a little extra in order to care for it and give it the respect it deserves.
Knowing that, you should also know that HydraFacials are shockingly affordable. A standard Hydrafacial cost anywhere from $150 to $300, however the price can go up if you include additional treatments such as additional serums or lymphatic drainage.
Ultimately, HydraFacials are rather low in cost for the results you receive from them.
How Often Should You Receive a HydraFacial?
Technically, there's no limit to the number of HydraFacials you can receive. If your budget and schedule permits you to receive a HydraFacial every week, then go for it! It can easily be included as part of your skincare routine.
Routine facials and caring for your skin at home with a high-quality skincare regime are a must if you want to prolong the results of your HydraFacial. Talk with your provider to determine how often you might need a HydraFacial to get the best results.
Receive Your Customized Treatment at an Affordable Hydrafacial Cost Here at Ultra Body Sculpt!
Ultra Body Sculpt is proud to offer affordable, customizable HydraFacials and other beautifying treatments to our patients near Arlington. Contact us online or give us a call today at 703-988-2000 to schedule your consultation and learn more about the HydraFacial process, plus how this exceptional treatment can benefit you! Smooth skin is in!