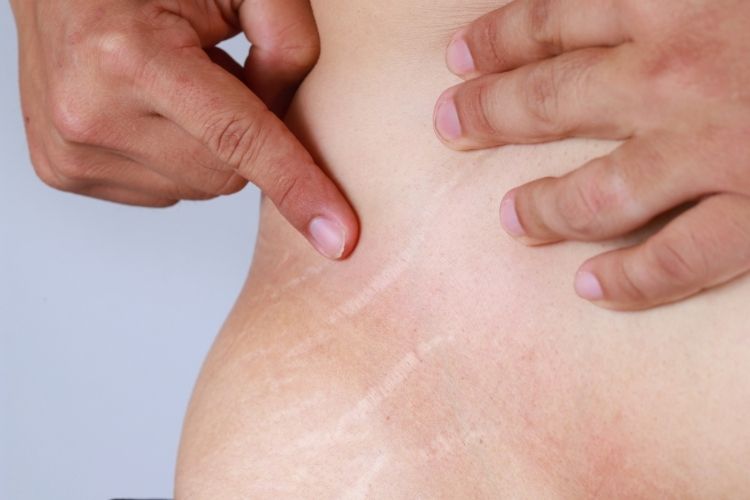 Both men and women are affected by stretch marks, which are often a natural part of life yet can still be a cause for insecurity and a lack of confidence in one's body. Are stretch marks permanent? What's the best treatment for them?
Keep reading to find out what can be done about these lines affectionately known as tiger stripes.
What Causes Stretch Marks?
Stretch marks, or striae, are simply a type of scarring that occurs when your skin stretches or shrinks faster than it can repair itself. The sudden change causes both collagen and elastin to rupture, resulting in the look of narrow lines or streaks. Not everyone is susceptible to them, but known triggers for stretch marks are:
Growth spurts

Pregnancy

Sudden weight loss / gain

Sudden muscle growth due to weight training
Both hormonal fluctuations and family history of stretch marks play a major role in your risk for stretch marks, which can be itchy, uncomfortable, and downright embarrassing. Will they be with you forever? How do you treat them?
Are Stretch Marks Permanent? How Can I Remove Them?
Like any scar, stretch marks are technically permanent but are known to fade on their own over time. They can even be reduced significantly with treatment, appearing virtually non-existent! Treatment options include:
Chemical peels

Laser therapy

Microdermabrasion

Preventative care with use of SPF, hyaluronic acid or centella

Skin tightening treatments, such as Sofwave
Don't let stretch marks affect your confidence any longer. Talk to a professional today to decide which treatment course is right for you!
Safe and Effective Stretch Mark Reduction is Here at Ultra Body Sculpt!
Ultra Body Sculpt is here to answer important questions like, "Are stretch marks permanent?" If you're seeking more information about stretch marks or treatment for them, give us a call at 703-988-2000! We are committed to our mission towards improving our patient's quality of life!
Related Posts