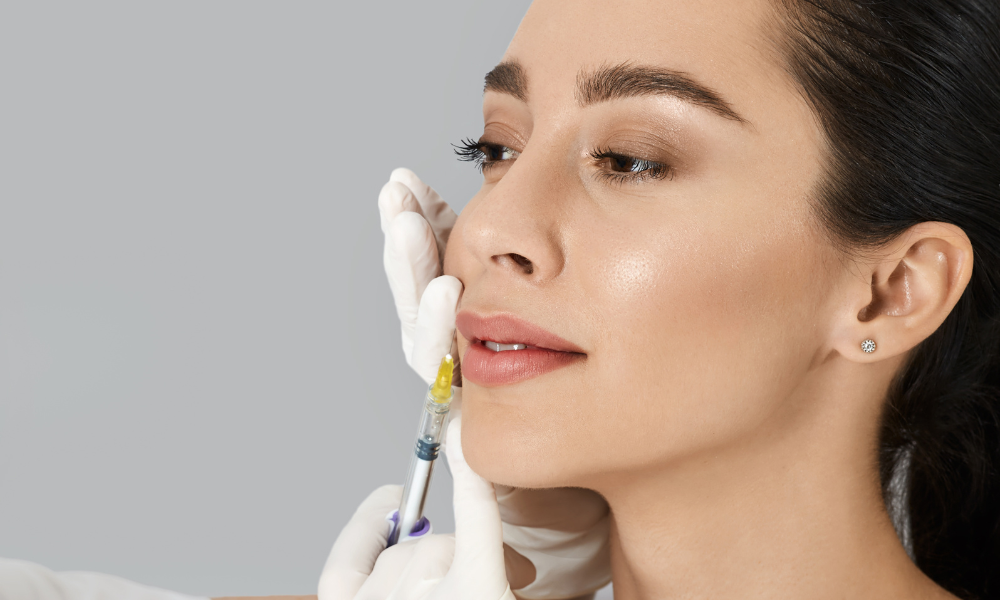 In the realm of non-surgical cosmetic procedures, dermal fillers have emerged as a popular choice for enhancing and rejuvenating various facial features. Among the many options available, hyaluronic acid-based dermal fillers have gained recognition for their safety and effectiveness. If you're considering lip fillers in Arlington, VA, it's essential to understand why hyaluronic acid-based fillers are considered the safest and most reliable choice.
Understanding Hyaluronic Acid Dermal Fillers
Hyaluronic acid is a naturally occurring substance found in the human body. It plays a crucial role in maintaining skin hydration and volume. Hyaluronic acid fillers are synthetic versions of this naturally occurring substance. They are designed to add volume, contour, and definition to various facial areas, including the lips.
Advantages of Hyaluronic Acid-Based Fillers
Natural-Looking Results:

Hyaluronic acid fillers are known for producing natural-looking results. They integrate seamlessly with your existing tissues, enhancing your appearance without looking overdone.

Versatility:

These fillers can be used to address various concerns, from enhancing lip volume to reducing the appearance of fine lines and wrinkles.

Safety:

Hyaluronic acid-based fillers are considered among the safest options available. They have a low risk of allergic reactions and adverse effects.

Reversibility:

In the rare event that you are not satisfied with the results, hyaluronic acid fillers can be reversed using an enzyme called hyaluronidase.

Gradual Absorption:

While hyaluronic acid fillers are long-lasting, they are not permanent. Over time, the filler is gradually absorbed by the body, allowing you to maintain or adjust your results as needed.
Why Hyaluronic Acid-Based Fillers Are Safest Lip Fillers in Arlington
Biocompatibility
Hyaluronic acid is naturally found in the body, making hyaluronic acid-based fillers highly biocompatible. This reduces the risk of allergic reactions or complications associated with foreign substances.
Gradual Degradation
Unlike some other fillers, hyaluronic acid fillers degrade naturally over time. This means that even if you choose not to maintain your results, the filler will gradually dissipate without causing harm.
Customizable Results
Providers can easily control the amount of filler injected, allowing for precise and tailored results. This ensures that the procedure aligns with your aesthetic goals and preferences.
Reversibility
The ability to reverse the effects of hyaluronic acid fillers provides an added layer of safety. In the rare event of an adverse reaction or dissatisfaction with the results, the filler can be dissolved with hyaluronidase.
The Injection Process
Before receiving hyaluronic acid lip filler injections in Arlington, VA, it's crucial to undergo a consultation with a qualified and experienced provider. During this consultation, your provider will:
Assess your facial anatomy and discuss your aesthetic goals.

Explain the procedure, including potential risks and benefits.

Develop a customized treatment plan tailored to your needs.

Address any questions or concerns you may have.
The actual injection process is relatively quick and involves minimal discomfort. Most hyaluronic acid fillers contain lidocaine, a local anesthetic, to enhance your comfort during the procedure.
Choosing the Right Provider for the Safest Lip Fillers in Arlington
Selecting a skilled and experienced provider is essential when considering lip filler injections. The expertise of your provider significantly impacts the safety and quality of your results. At Ultra Body Sculpt, our team of experienced specialists is dedicated to ensuring your safety and satisfaction throughout your lip filler journey. With our knowledge and skill, we can help you achieve your desired lip enhancements while prioritizing your well-being.
When it comes to lip filler injections in Arlington, VA, hyaluronic acid-based fillers stand out as the safest and most effective choice. These fillers offer natural-looking results, biocompatibility, and reversibility, making them a preferred option for many individuals seeking cosmetic enhancements. To learn more about lip filler options and to schedule a consultation, contact Ultra Body Sculpt at 703-988-2000. Our experienced team is committed to helping you achieve your aesthetic goals while ensuring your safety and satisfaction throughout the process.
Related Posts