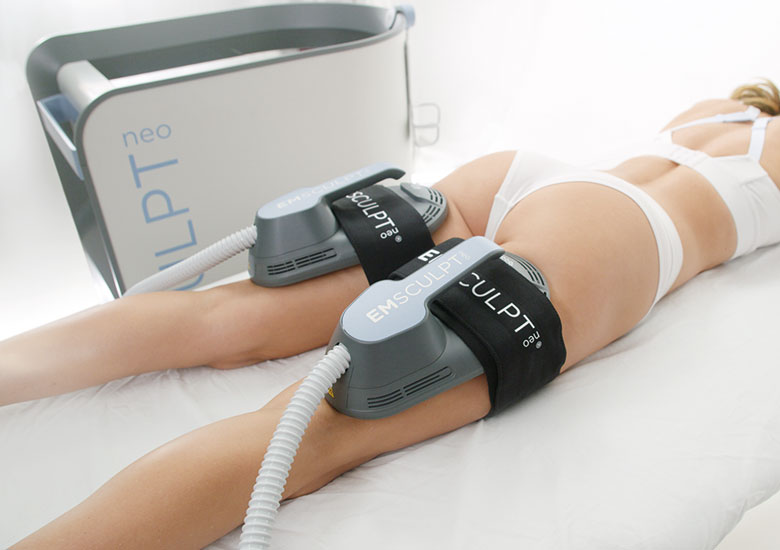 You've heard everything you need to know about liposuction to determine it's not the right treatment for you, but you're also ready for some professional help for targeting stubborn areas of fat. Muscle toning would be nice, too! So, what is Emsculpt in Leesburg, VA, and can it really do it all?
Let's Get Right to the Point – What is Emsculpt in Leesburg, VA?
Emsculpt in Leesburg is a non-surgical, non-invasive body contouring method that's FDA cleared to build muscle. Emsculpt NEO is a revolutionary upgrade to the original Emsculpt system, which only tightened and toned muscle groups. Now, you can tighten skin, trim fat, and tone muscles with one treatment, in only half an hour!
Tell Me How Emsculpt and Emsculpt NEO Work!
Emsculpt and Emsculpt NEO use high-intensity focused electromagnetic energy (HIFEM) to contract certain muscle groups over 20,000 times in a very short time. This tightens, tones, and strengthens your muscles. Not only do you notice more defined muscles, but you'll actually be stronger, too.
Emsculpt NEO mixes in radio frequency (RF) heating to melt away fat and tighten sagging skin. It's the only body contouring treatment on the market that uses both kinds of technology for superior results.
Is There Downtime With Emsculpt in Leesburg?
There is absolutely no downtime associated with the original Emsculpt or Emsculpt NEO. Many people find their treatments relaxing and choose to nap or read a book. When your session is over, you can return to your daily activities. However, you may feel you had an intense workout and feel sore the next day.
Ultra Body Sculpt is Here to Build Your Body With Emsculpt Near Leesburg
To learn more about how Emsculpt in Leesburg, VA, can change your life, contact our clinic online or give us a call today at 703-659-9049 to schedule a consultation. At Ultra Body Sculpt near Leesburg, VA, we have the latest and greatest in body sculpting and are here to answer all of your questions, so you can feel confident about safe and effective confidence-boosting treatments!
Related Posts