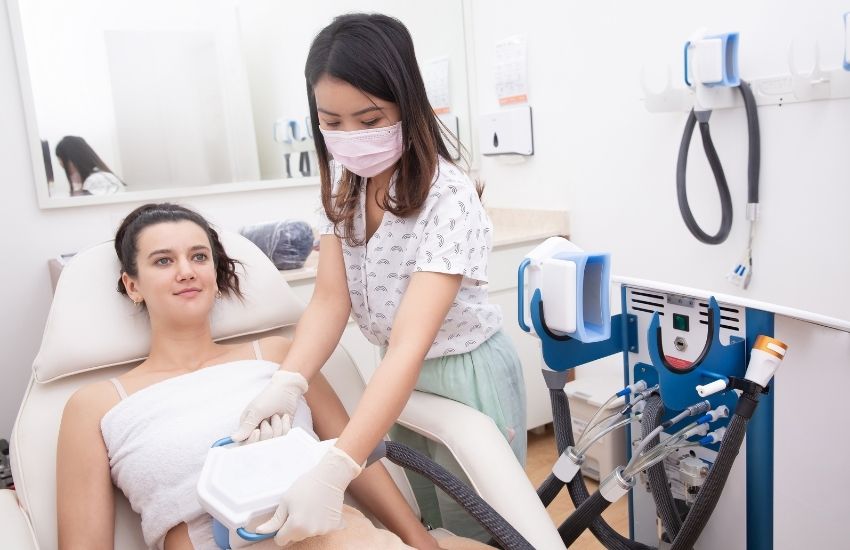 Cryotherapy has proven itself to be beneficial in many unique ways, including as a fat-blasting treatment. But, how long do these results last? What can you expect from CryoSkin and similar treatments like CoolSculpting in Arlington, VA?
Sub-Zero Temperatures for Maximum Results
Both CryoSkin and CoolSculpting utilize sub-zero temperatures in order to freeze fat cells. These fat cells are then safely processed by your lymphatic system, effectively destroying them. Both of these procedures are pain-free, as they are non-invasive and, even better, non-surgical.
You'll notice minor improvement almost immediately, with continuous growth in your results as your body processes these dead fat cells over time. While you can enjoy the benefits from just one treatment, your provider will likely recommend a few sessions to get the most out of treatment.
Both CryoSkin and CoolSculpting use cryotherapy in order to achieve the same result, which is fat elimination, but CryoSkin begins with a couple of minutes of heat before dropping temperatures in order to shock your cells. CoolSculpting uses panels to treat the targeted area, whereas CryoSkin uses a wand.
How Long Will Cryotherapy Results Last?
You'll be happy to know that both cryotherapy options are long-lasting and even permanent. Because these treatments destroy your fat cells, not just shrink them, you'll get to enjoy your results for the rest of your life, as long as you maintain a healthy diet and lifestyle.
The human body cannot survive without fat cells, meaning these fat elimination treatments have to leave some fat behind. This allows for weight and size gain if you do not upkeep your results.
Eat healthily, exercise regularly, and maintain as close of a weight as possible to continue enjoying your cryotherapy results.
For High-Quality CryoSkin/CoolSculpting in Arlington, VA, Visit Ultra Body Sculpt!
If you're in search of high-quality cryotherapy in the DMV, CryoSkin/CoolSculpting in Arlington, VA, is your best bet. Contact Ultra Body Sculpt online or give us a call at 703-988-2000 to schedule your appointment with our cryotherapy specialist today!
Related Posts